Arely Gomez Wins Top Prize for Original Play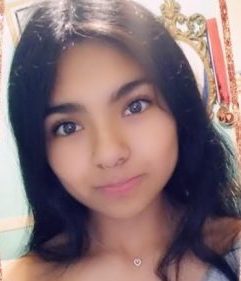 Arely Gomez Hernandez, Class of 2024, won the top prize for her one-act play, The Fight for a Dream, in the younger category at the Playwrights Project Lights Up Award Ceremony.
The award-winning play is about a girl named Lulu whose dream is to sing; unfortunately, her family isn't supportive. When Lulu's family catches wind that she has been signed up for a singing contest, they prohibit her from going. In the end, everything is able to get sorted out. The Fight for a Dream leaves you with the inspiring message that you can never give up on your dreams because dreams do come true.
"It feels like a dream come true," expressed Arely ('23). "I never thought my play would get this far or be chosen to be produced. But I feel honored and very excited, and I'm looking forward to seeing it."
Winning the top prize for The Fight for a Dream was meaningful for Arely. Although she has other career plans for her future, this accomplishment has inspired her to continue writing.
Arely's then English teacher, Dr. Ensberg, recognizes her success: "She was competing against top students from dozens of high schools, and she really took to heart all that Ms. Arnold taught her about effective playwriting and wrote a beautiful play. Her play will be wonderful to watch being performed by professional actors."
To put it to scale, 243 students from 73 unique schools and 26 districts submitted one-act plays. As one of her instructors during the playwrights project unit, Dr. Ensberg was very impressed and proud with her humorous play.
Ms. Arnold, from Playwrights Project, was the guest teacher invited to aid the students during their playwrights unit. She is described as a "Teaching Artist" with the Playwrights Project organization. Their mission is to empower people to share ideas through theatre. Ms. Arnold has been working with Preuss since 2014, and although they have had many finalists and semi-finalists, this is the first time they have ever had a winning play from Preuss.
Annual guest teacher, Aurrora Arnold, expresses her appreciation for Arely's play: "I challenge students to make surprising choices and to write scripts that are unique to them. Arely achieved this by showing the audience a familiar story and then taking that story to a surprising place."
"My advice to students when writing plays is to be specific, imaginative, and tell a story in a way only you can. Be specific about your characters and who they are, add details that are unique to each character in your script. Be personal in your storytelling, use your imagination to bring your experiences and the world around you to life on the page," advises Ms. Arnold.
The Fight for a Dream along with other winning plays, Playwrights Project will be streaming them online from March 11-19th, 2021. Tickets will be available soon on their website.